Seaspiracy, Um Comentário
Seaspiracy, Um Comentário
Não Contém Spoilers
By Alberto Adler
Há alguns anos trabalhei com uma garota cujo tema da dissertação de mestrado era a certificação de alimentos orgânicos no Brasil. Como essa galera mais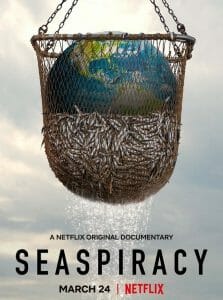 engajada em questões ambientais é bem exigente, foi uma grande surpresa para mim descobrir que o selo mais difundido de "Alimento Orgânico" aqui no Brasil é baseado em declarações do próprio fabricante. Não há, de fato, uma fiscalização efetiva. A primeira coisa que pensei, então foi "Só no Brasil mesmo…".Porém, acabo de descobrir que não.
Assisti ao documentário Seaspiracy (Netflix). Fiquei estarrecido!
Confesso que nos primeiros minutos de exibição, quase desisti. Logo no início, o estilo da narrativa remete muito a obras como Supersize Me, então me deu a impressão de que seria "mais do mesmo". Porém, como é muito difícil eu largar uma obra pelo meio (tem que ser muito ruim), fui em frente.
E aí ficou escancarado que a esculhambação em termos de certificação de alimentos é geral. Mais do que ser baseado em declarações de quem realiza a pesca, o sistema é financiado por quem dele mais se beneficia: a própria indústria pesqueira. Ah, você achou que isso é um spoiler? Pois é exatamente isso que os vendedores de peixes, como atum, cujas embalagens trazem aquele selo de "Dolphin Free" fazem. Aliás, os que trazem selos de "Sustentável", também.
Peço desculpas pelo pequeno spoiler – o filme vai muito além desta questão.
Mas, espero que você fique pelo menos tão revoltado com a indústria dos pescados quanto ficou comigo.
Assista ao filme, tire suas próprias conclusões e tome suas decisões sobre consumo de peixes. Mas, vou avisando: se você tem restrições ao consumo de frangos, bois ou porcos devido às condições de criação e abate deles, prepare seu estômago.
Alberto Adler
Alberto Adler is a Brazilian Scholar, a compulsive writer a visionary, and an Influencer. He is a Pos-Graduation Professor. Adler is also a Business Mentor and a Mastermind Visionary Leadership coach.