Doctor Peyo: The Healing Power of Animals
"Doctor Peyo" Proves the Healing Powers of Therapy Animals.
(Global Heart | Esther Haasnoot) Peyo and his trainer Hassen Bouchakour once competed in dressage competitions. Now they do their rounds in a French hospital, where they often stay with sick people until the end.
The healing power of animals
Several hospitals employ therapy dogs to comfort and cheer up patients, but at the Calais hospital in northern France, a different kind of therapy animal roams the corridors. Peyo is a 15-year-old dressage horse who used to compete professionally in dressage with his trainer Hassen Bouchakour. Dressage, sometimes described as horse ballet, requires exquisite wordless communication and trust between horse and rider. It was during dressage shows that Bouchakour first noticed Peyo's tendency to nurse the sick. Now Peyo soothes patients and family members alike.
Bouchakour says that even during competitions, Peyo seemed to seek contact with people who were struggling physically or mentally. This gave Bouchakour the idea of preparing Peyo to visit the sick and elderly. He worked diligently to get the horse used to noise and different floor levels so that Peyo would be more comfortable in hospitals and convalescent homes.
Extraordinary care is taken to prepare Peyo for the actual visits. His body receives an antiseptic lotion and a blanket, his mane, and tail braided tightly, and Hassen always stays close to him. After four years of research, veterinary specialists believe Peyo's brain functions in a uniquely empathetic way.
Doctor Peyo makes his rounds.
"Doctor Peyo," as he is part of the hospital staff, seems to have a special gift for locating the sick or the injured. Peyo goes door to door in the palliative care center at the hospital, a terminally ill facility. Peyo tells his trainer which room he wants to go into by stopping or lifting his leg. It is Peyo himself the one who decides when to enter the hospital and who he wants to see. Dr invariably seeks out people who are very sick or about to die, and his healing presence brings great joy.
"He stayed here for almost two hours and watched over a dying woman. I accompany him, but I let him do what he wants. He is the one who decides."- Hassan Bouchakour.
Miraculous results
Both medical staff and patients appear to be amazed at the incredible results Peyo achieves through his calming presence. The loving, gentle presence of this stallion seems to evoke love in those he visits and helps remind us that healing, in any way, is always possible. Peyo has proven to effectively reduce patients' stress and relieve their family members' anxiety. The Doctors realized how beneficial Peyo's presence was. They noticed that patients who interacted with him regularly required less-intensive medications and painkillers.
Peyo stayed with many patients until the end of their lives. One patient, Daniel, a former horseback rider, developed a strong bond with Peyo. When Daniel passed away this year, he requested that his family have the horse accompany his coffin to the funeral.
Animals have an innate strength to comfort us, even in difficult times. Hopefully, this inspiring story of animal friendship will encourage more medical institutions to explore animals' healing benefits.
Source: Global Heart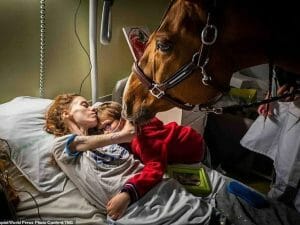 Nominated for World Press Best Photo of The Year: The photo shows Manon (24), who has metastatic cancer, embraces her son Ethan (7) in the presence of Peyo (known as Dr. Peyo). Dr. Peyo is a horse that worked in animal-assisted therapy, at the Centre Hospitalier de Calais France on November 30, 2020.
The power of love and the natural bond between species is used to provide comfort, peace, and companionship to terminally ill patients.
Animal-assisted therapy, or pet therapy, is used in clinical environments, especially in psychological therapy and palliative care
Horses seem particularly suited for palliative care as they are primarily in tune with their surroundings. Peyo works with his trainer, Hassen Bouchakou, at Les Sabots du Coeur, an organization devoted to animal-assisted therapy, and to scientific research in Calais, France.
He supports around 20 patients each month, and scientists are now studying his intuitive ability to detect cancers and tumors.
Photo by Jeremy Lempin, France. Learn more about the photo here
Follow Ministry Earth on Facebook, Pinterest, Instagram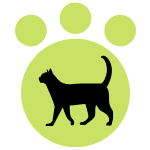 Esther Haasnoot
Esther Haasnoot is intuitive and healer. Also, the initiator of Global Heart magazine. Where she encourages and inspires towards a conscious, healthy, harmonious, sustainable, and loving society. To create an uplifting and positive future for all of us.