Tazawa-ko: The Legend of the Lake that Never Freezes.
Tazawa-ko: The Legend of the Lake that Never Freezes.
Tazawa-ko (田 沢 湖) is located in Semboku, south of Towada-Hachimantai National Park. It is a volcanic lake that offers a natural, rustic landscape in Akita Prefecture. While Lake Towada is the largest caldera [1] lake in the country, Lake Tazawa is the deepest lake, with 423 meters.
Due to its depth, the lake never freezes, not even during the coldest winters in northern Japan! However, a local legend explains why this phenomenon occurs and is related to one of the most iconic symbols of this lake, which is an enigmatic golden statue with the representation of a woman named Tatsuko.
There are many legends about Tatsuko or "Tatsuko Densetsu" (辰子 伝 説), as it is known in Japan. Perhaps no one knows the "original" or "authentic" version because these are stories that have been passed on by word of mouth and from generation to generation. However, we will report below one of the most propagated legends about the famous princess Tatsuko Hime.
The Legend of Tatsuko – "Tatsuko Densetsu" (辰子 伝 説)
According to legend, Tatsuko was a lovely girl. Knowing that her beauty would not last forever, she started visiting a sanctuary at the foot of Mount Okurasan (a mountain in the Jindai area) every night to ask that her beauty be eternal.
After 100 nights, Tatsuko received a message from the Goddess of Mercy: "Do you want to be beautiful forever? Go north. Find the sacred source and drink the water from there". Tatsuko found the sacred source just as the Goddess of Mercy had told him. As she was very thirsty, the girl gathered her delicate little hands. She began to drink the water from the fountain with great intensity. At this point, heavy clouds appeared over the mountains, bringing a storm that caused a landslide around the lake.
Because of the intense lightning, Tatsuko did not realize that she had turned into a dragon. Her mother, concerned about her daughter's disappearance, went looking for her. She went through the mountains and found the sacred source. She desperately called her daughter's name, and Tatsuko appeared with her new dragon appearance.
Becoming The Lake's Guardian
"Forgive me, mother," she said. "So so sorry! I wanted my beauty to be eternal, and because of that, I was transformed into a dragon. She had transformed me into the Guardian of Lake Tazawa.  Instead, I will keep this lake abundant with fish, and whenever you catch it, you will remember me. They will be my gifts to you, mom." Soon after, Tatsuko disappeared into the water. The poor mother was so desperate for what she had just seen that she ended up throwing a burning torch into the lake. Flames of fire soared over the lake but immediately turned into a school of fish – a species known today in Japan as Kunimasu (Oncorhynchus nerka kawamurae).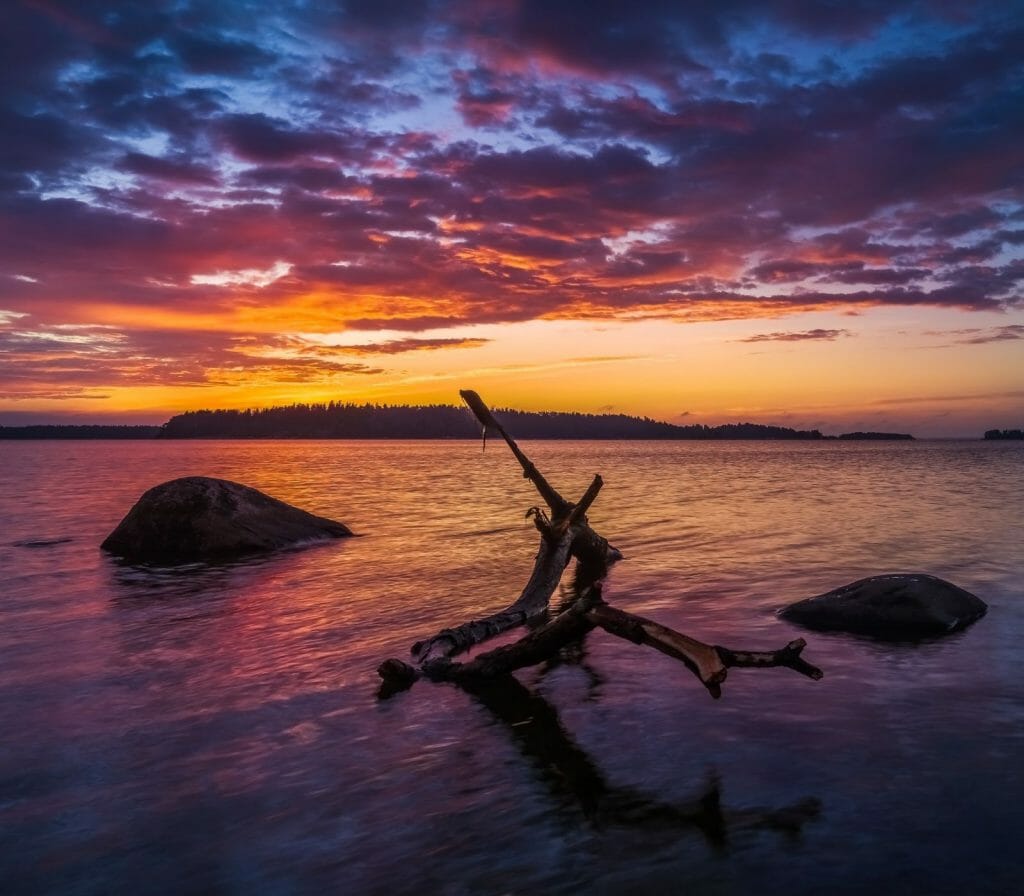 See Also
The Legend of the Three Lakes
Another legend called "The Legend of the Three Lakes" or "Sanko Densetsu" (三 湖 伝 説) tells us the story of a male Dragon. It is said that a man named Hachirōgata also became a dragon and lived in a lake located north of Tazawa-ko. He fell in love with Tatsuko and spent the winters with his beloved. It is said that the fiery passion between them prevented the lake's waters from freezing in the winter.
The near-extinction of the Kunimasu fish
Lake Tazawa was known for its very clear waters, often being compared to Lake Mashu in Hokkaido. However, its waters suffered much damage due to the construction of a hydroelectric dam in 1940. The structure had a profound environmental impact which would have caused the extinction of the Kunimasu fish. Luckily, a remaining population was found at Lake Saiko in 2010. This fish species, a subspecies of red salmon, is only found in Japan, and the news that it was not extinct was widely celebrated. Nowadays, the waters of Lake Tazawa have been recovered. It enchants visitors with various colors, depending on the conditions, ranging from a brilliant "jade" green to a deep hue of "indigo" blue.
[1] A caldera is a large cauldron-like hollow that forms shortly after emptying a magma chamber in a volcanic eruption. When large magma volumes erupt over a short time, structural support for the rock above the magma chamber is lost.
Ministry Earth
Ministry Earth is a collective Awareness-Raising, Perception-Building Initiative from Humanity Healing International, Cathedral of the Soul Educational outreaches created to introduce the perspective of Ethical Consciousness and Nonhuman Personhood to its Animal & Eco Ministries. Ministry Earth is a Service-Oriented Initiative and its Magazine is a Copyrighted Publication of OMTimes Media, Inc. Broadcasting and Publishing House.