Denali: The Friendship of a Lifetime
Still only 29 years old, he came face to face with his own mortality. Ben was diagnosed with stage 3 colorectal cancer that had just invaded the lymph nodes.
"Through all the turmoil and confusion of this prolonged battle, there was one friend who never faltered and always stood behind me."
During the medical treatments – surgeries and chemo, Denali stood by his owner and played a significant role in his recovery.
Denali was a true friend during the ordeal that followed. Constantly by his side, Denali provided the strength and courage his buddy needed to survive. Despite the physical weakness, toxins, and emotional lows, Ben was strengthened by Denali's loyalty and affection, thanks to the nurses who left the dog by his side during the recovery process. To have a dog who was willing to give everything and expect nothing in return was incredibly healing and critical to Ben's recovery. In April 2005, a week before Ben's 30th birthday, he underwent his final treatment, and he is still cancer-free.
"When Denali was in the hospital bed with me, he stepped on it so gently, it was amazing. He made sure he didn't touch anything that hurt and that he didn't invade my space."
A heartfelt tribute to the life
However, in his 16th year, Denali contracted cancer. Knowing that his dog's final days were upon him, Ben took his friend on one last road trip to film a tribute to his faithful four-legged friend.
See Also
A day after Denali's passing on Feb. 2, 2014, Ben posted a tribute on Instagram.
"Thank you, Denali, for giving me the courage to hit the road with a camera, a van, and no plan back in 2001. For never taking your eye off me through a year of cancer treatments, surgeries, and countless other challenges," he wrote. "I Thank you for your uncanny ability to walk into a frame at precisely the right moment to elevate an image. Also, for teaching me patience and the joy in the simple, quiet moments as I watched you grow older. Most of all, I thank you for giving selflessly the unconditional love that only a true friend can give. It's impossible to put into words all that you were and will always be to me—I was always convinced you were more human than dog, and all of the countless lives you touched felt the same."
He concluded with, "Thank you for your unwavering belief in me, happy trails, my friend!"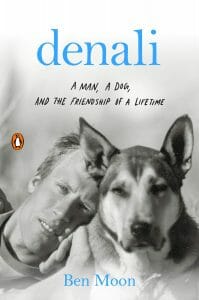 Esther Haasnoot
Esther Haasnoot is intuitive and healer. Also, the initiator of Global Heart magazine. Where she encourages and inspires towards a conscious, healthy, harmonious, sustainable, and loving society. To create an uplifting and positive future for all of us.