Of Love and Loyalty
The touching Story of the Dog that saved his owner from the 2011 Japanese Tsunami.
It is no wonder that the dog is man's best friend. After all, it turns and moves, we hear surprising stories of dog loyalty to their owners. An example is the story of Hachiko, the dog that did not stop waiting for its owner at the train station. He continued to wait even after his owner's death.
I have never found in a human being loyalty that is comparable to a dog's loyalty. Doris Day
In recent years, yet another proof of canine loyalty took place in Japan, precisely on a very tragic day. On March 11, 2010, the terrible earthquake and tsunami day, a 12-year-old Shih-Tzu dog named Babu saved its owner, Tami Akanuma, 83. They were residents in the city from Miyako, one of the towns hardest hit by the tsunami.
Histories are more full of examples of the fidelity of dogs than of friends. Alexander Pope
Here's how it happened:
According to its owner, Babu is not a big fan of hiking. However, on March 11, Babu not only insisted on being taken out of the house but also took his beloved owner to the higher parts of the city, saving her life.
At the time of the strong earthquake, the two were in the living room. Despite the great fright, Akanuma breathed a sigh of relief, as her house was still standing. However, Babu immediately started to act very strangely.
He started making a fuss, moaning and jumping in front of the door.
When they get outside, Babu stubbornly refused to obey Tami and literally dragged her to a nearby hill – in the opposite direction from his usual route in the coastal city of Miyako.
As an elderly woman, Akanuma stopped walking several times to catch her breath.
As a loyal furbaby, Babu looked back, as if asking his owner to continue to walk faster. He acted as he was pulling her. That was when Tami realized they had already covered a kilometer in a matter of minutes.
My dogs have been my most loyal friends and constant companions. Cesar Millan
 The Proof of Babu's Loyalty
The hero dog owner didn't even realize that a giant 23-meter wave tsunami was already heading towards her city.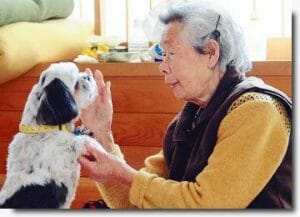 When they reached the top of the hill, Babu started to relax and walk more slowly, and Tami soon found out why:
Looking down, she saw the tsunami hitting the entire neighborhood where they lived. Her house had survived the earthquake but was now immersed in muddy water. Tami Akanuma now knows that Babu's strange behavior saved their lives. She also promised that she will no longer question her faithful dog's intuition and instincts from now on.
"Babu must have felt that the tsunami was coming," said Akanuma. If she had contradicted Babu, we would undoubtedly be both dead, drowned by the giant wave of mud that invaded the district of Taro-Kawamukai where we lived.
Babu and Akanuma were in a shelter with over 60 residents of that village, which also survived.
The unwavering dedication and loyalty of his four-legged friend is something that Tami Akanuma will never forget in his life.
To me, dogs are not the students, not the ones that need training. To me, a dog is a teacher of life who teaches us the most important moral values; honesty, integrity, loyalty, trust, respect, and love.
Cesar Millan
Follow us on Facebook
Cathedral of the Soul
Cathedral of the Soul intends to undertake the challenge of creating a multidimensional healing space that is dedicated to those who seek to enrich, enlighten and heal themselves while serving and assisting in the healing of others. Cathedral of the Soul is one of the many spiritual outreaches of Humanity Healing International, a registered 501-C3 nonprofit with Church status.